Miscellaneous Items involving St. Mirren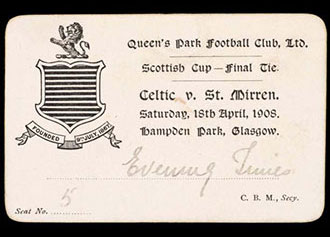 Celtic v St. Mirren
Scottish Cup Final
April 18th 1908
A press ticket issued to the Evening Times for the 1908 Scottish Cup Final match between Celtic and St Mirren at Hampden Park. Celtic won 5-1 in front of a crowd of 58,000. (Photo by Popperfoto via Getty Images/Getty Images)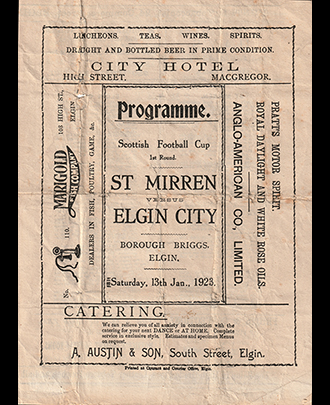 Elgin City v St. Mirren
Scottish Cup 1st Round
January 13th 1923
The earliest programme known to exist involving St. Mirren was for this First Round Scottish Cup tie away to Elgin City. A crowd of 4,700 saw the Buddies win 3-0 with goals from Clunas (pen, 30 mins.), Thomson (35 mins.) and Walker (75 mins.).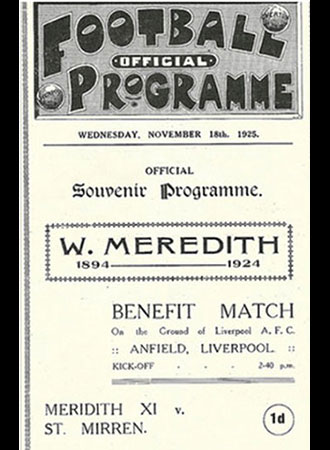 Meredith XI v St. Mirren
Friendly
November 18th 1925
Billy Meredith was a Welsh international who played over 600 games for both Manchester clubs until he retired at the age of 49 in 1924. Two benefit matches were played for him in 1925, the first in April against a Rangers/Celtic XI, and the second against St. Mirren in November. Programmes exist for both games.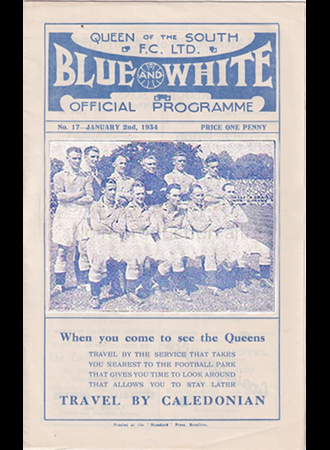 Queen of the South v St. Mirren
Reserve League
September 30th 1933
Queen of the South began programme production in 1933 and were prolific issuers for both First Team and Reserve matches from then until the beginning of the Second World War in 1939. This was one of their earliest issues for a reserve match against St. Mirren.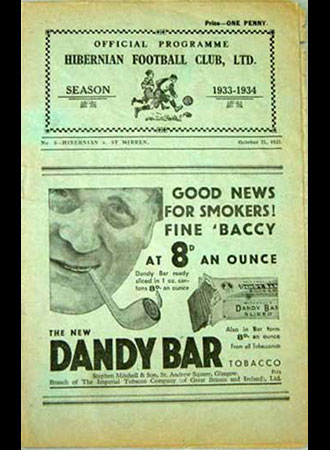 Hibs v St. Mirren
Scottish League
October 21st 1933
The Hibs programme for this League match followed a format which was commonly used by a number of Scottish clubs at the time. Hibs led 1-0 through a Malloy goal just on the interval. St, Mirren equalised five minutes from time through Sim, but another goal from Malloy gave victory to the home side.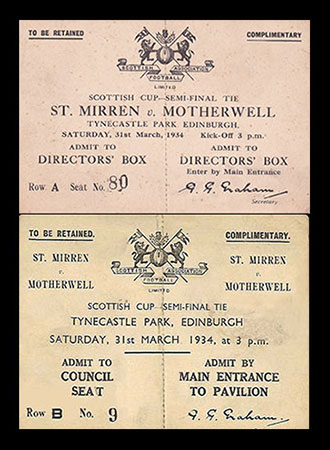 St. Mirren v Motherwell
Scottish Cup Semi Final
March 31st 1934
30,000 watched St. Mirren beat Motherwell 3-1 in this Scottish Cup Semi Final at Tynecastle. Jimmy Knox scored a hat-trick for Saints, one of them a penalty, while William McFadyen got the Steelmen's consolation goal.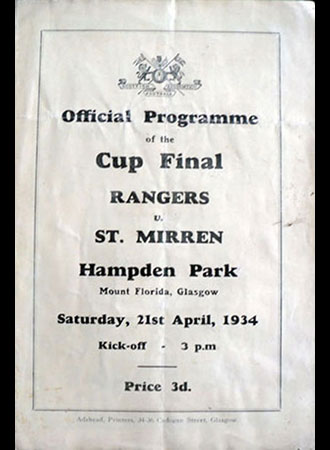 Rangers v St. Mirren
Scottish Cup Final
April 21st 1934
This was the only pre-war Scottish Cup Final programme featuring St. Mirren. It wasn't a happy day for the Saints, as they were crushed in a 5-0 defeat to Rangers, the goals coming from Nicholson (2), McPhail, Main and Smith.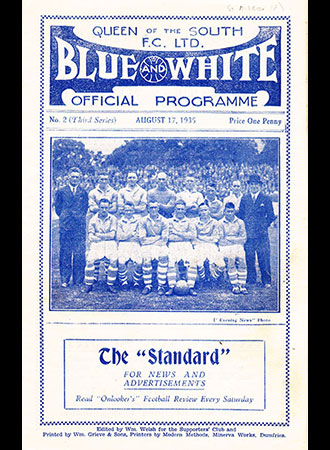 Queen of the South v St. Mirren
Reserve League
August 17th 1935
This was another Queen of the South Reserve programme from the 1930s, this time from 1935. Both clubs were playing their second match of the League campaign and earned their first points of the season with a 5-5 draw.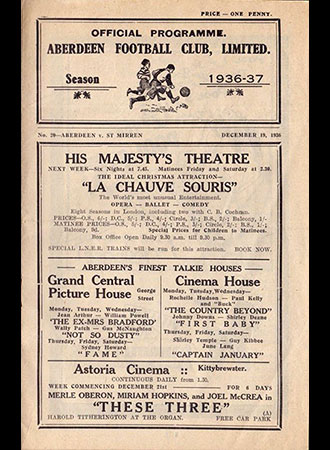 Aberdeen v St. Mirren
Scottish League
December 19th 1936
Aberdeen issued a programme similar in format to the Hibs issue from three years earlier when they met St. Mirren in a League match at Pittodrie on 1936. The crowd were served up a pre-Christmas treat with nine goals, Aberdeen winning 5-4.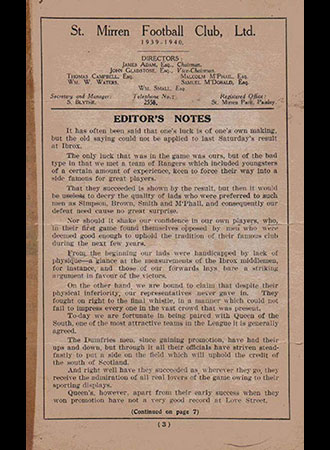 St. Mirren v Queen of the South
Scottish League
August 19th 1939
The oldest known St. Mirren home programme was for yet another match against Queen of the South. This was for the opening match of the 1939/40 season which was abandoned due to the outbreak of war. Saints' Thomas Brady scored a hat-trick in a 3-3 draw, the Doonhamer's goals coming from Connor, Lang (pen) and Law.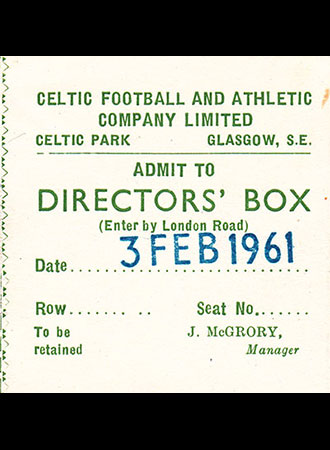 Celtic v St. Mirren
Reserve League
February 3rd 1961
Reserve programmes from the 1960s are rare, but tickets from the same period are even rarer. This one was from the Friday night reserve match between Celtic and St. Mirren which ended in a 4-0 home victory, the goals being scored by Byrne (2), Conway and Carroll.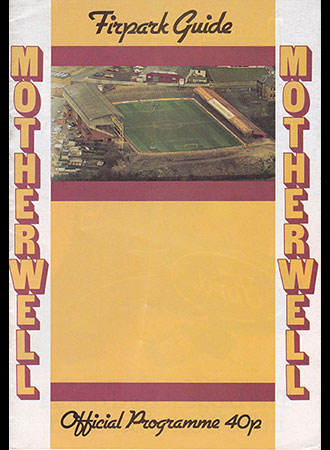 Motherwell v St. Mirren
Scottish League
November 5th 1983
This was a printer's copy of the programme for the match between Motherwell and St. Mirren in late 1983. It was identical to the commonly available issue, except that the cover omitted the match details. However, it still contained a lucky programme number in the centre pages.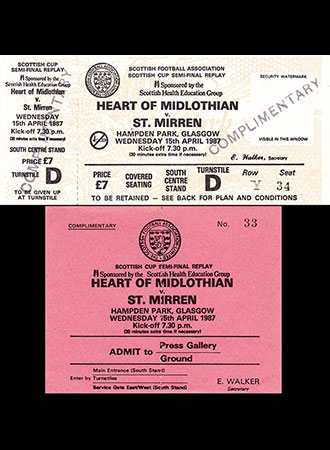 Hearts v St. Mirren
Scottish Cup Semi Final Replay
April 15th 1987
The SFA were in the habit of preprinting tickets for Scottish Cup semi final replays in order to address the short timescales from the original match, but a decision in the first game meant that most of these tickets were never required. One such ticket was for the "replay" between Hearts and St. Mirren in 1987. The game was deemed unnecessary when St. Mirren won 2-1 at the first attempt.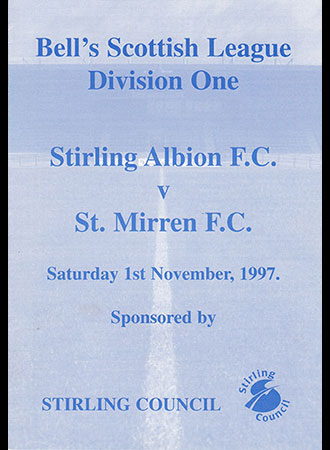 Stirling Albion v St. Mirren
Scottish League
November 1st 1997
Alongside the usual Stirling Albion issue for this Scottish League fixture, there was a special sponsor's copy, produced on behalf of Stirling Council. This eight page issue contained a message from the Club Chairman, a matchday itinerary, a guest list of Stirling Council employees and an article about the SFA Development officers. There were no details about the teams or officials.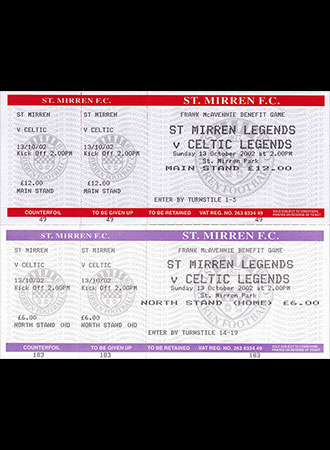 St. Mirren Legends v Celtic Legends
Frank McAvennie Benefit Game
October 13th 2002
This match was not officially endorsed by either of the two clubs, but permission was granted for Love Street to be the venue. The Saints Legends won by 9 goals to 5.