The DIY Programme – Clydebank v St. Mirren (1995)
(first published in the match programme for St. Mirren v Hearts, 13th May 2023)
The 1994/95 season was petering out to a finish when St. Mirren travelled to Kilbowie Park, Clydebank on Saturday 6th May 1995 for the second last fixture of the season. With both sides now clear of relegation worries in the First Division, the pressure was off and 1,555 fans turned up to support their teams on a pleasant, sunny afternoon. As these fans reached for their £1 coin to buy a programme, they could not have imagined what they would receive in exchange.
Clydebank's programme had always been a bit of an enigma. For most of their first eighteen years of existence, Bankies only issued for the occasional friendly or Cup-tie. They did have two full seasons of regular issues; in 1972/73 and for their inaugural season in the Premier League in 1977/78, but it wasn't until 1984/85 that they started to issue on a regular basis. However, from that season on until just before their demise in 2002, they produced for every first team home match. They were also one of the clubs to revive the production of programmes for reserve matches, which resulted in them producing around 40 issues per season.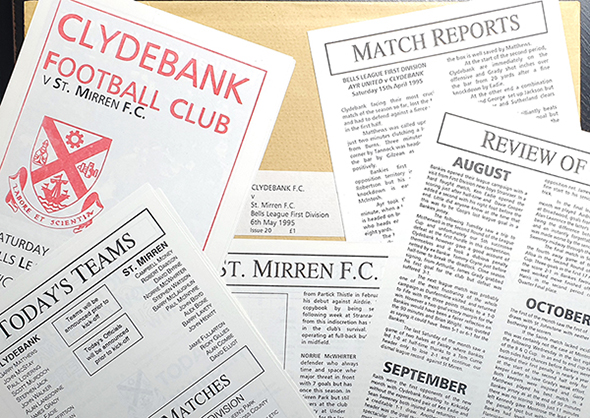 Clydebank v St.Mirren 1995
The Clydebank issues were rough and ready in appearance and rarely retained the same format from season to season, but they were produced by true fans of the Club and were packed with interesting news and statistics. The programmes were printed in central Glasgow by Injectaprint, who also serviced a number of other lower league clubs at the time. The printers also shared premises with the Strathclyde Programme Shop, who were one of the leading Scottish programme dealers throughout the 1980s and 1990s.
The fans who strolled up to Kilbowie for the St. Mirren match could have been forgiven for scratching their heads at the sight of the "programme" on that day. Instead of a neat, stapled issue, they were presented with a brown A4 envelope enclosing a random collection of unnumbered pages. There were four single A5 pages, three sets of A4 sheets folded in half and stapled to produce A5-sized "booklets", and three double-sided A4 sheets. It could definitely be classed as a "Do It Yourself" programme!
Only one of the single A5 pages was coloured and represented the cover, containing the match details and Club crest. A second displayed the Clydebank Officials and the third the team line-ups and fixtures for the day. The last single page, headed "Miscellany" contained a quiz and some random facts about the two teams. The reverse of each single page contained an advert.
The first of the folded pages featured match reports from the home side's last three games and was backed by another advert. Another eight-page booklet collated the Club news in a series of articles including "The Wright Angle" and "Comment", which gave personal views on recent matches. "Notes & Jottings" and "Appearance Notes" focussed on team news and player appearances respectively. With the season almost at a close, "Editorial" took the opportunity to thank those individuals who had contributed to the production of the programme throughout the season. This article also shone some light on the new experimental format. The remainder of this booklet contained photo action.
The last booklet was a touching appreciation in words, photos and career details of former Bankies favourite Davie Cooper, who had passed away only six weeks previously.
"Review of the Season" was a double sided A4 page giving a month-by-month narrative of Clydebank's fortunes in 1994/95. Another page provided pen pictures of the Saints players and was backed by a detailed listing of every previous meeting between Clydebank and St. Mirren.
The last double-sided page provided every kind of statistic you would ever want to see in a programme; appearances, full league results, league tables, form tables, scorers and keeper records.
This is a particularly difficult programme to obtain nowadays and, to my knowledge, has never appeared on a dealer's list.
Having secured safety in the First Division, Saints Boss Jimmy Bone chose to rest three players who were on the edge of suspensions which would have carried into the following season. Clydebank's Gary Bowman was the difference between the sides. He had an early effort cleared off the line and, after 29 minutes, won a penalty for the home side when he was pushed by Saints' debutant Gavin Galloway. Scott Murdoch opened the scoring from the resultant spot kick. Bowman doubled Bankies' lead with a header after 72 minutes and St. Mirren pulled a goal back a minute later when Steve Watson converted a John Hewitt cross, but it wasn't enough to avoid defeat.