A first European Night in Paisley (1980)
(first published in the match programme for St. Mirren v Livingston, 1st October 2022)
On 1st October 1980, the UEFA flag flew above the main stand at Love Street as it hosted its first European club match between (temporarily renamed) Paisley St. Mirren and Swedish side I.F. Elfsborg in the second leg of their UEFA Cup First Round tie. Saints had come from behind in Sweden to take a slender 2-1 lead back to Paisley, the goals coming from Doug Somner and Billy Abercromby, and were hopeful that home advantage would see them build upon that result and find themselves in the hat for the Second Round draw.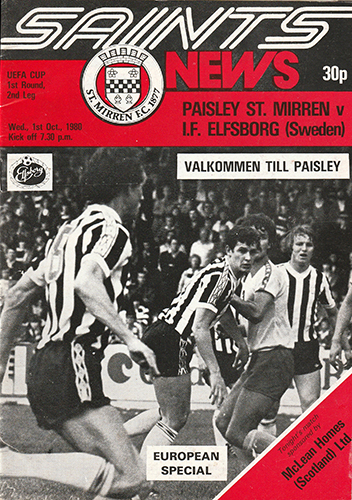 St. Mirren v I F Elfsborg
The match programme, entitled "Saints News", was a twenty-page A5-sized issue, printed black and red on white glossy paper and priced at 30p. This was one of only twelve editions that the Club produced in this particular format from the start of 1980/81 before transitioning to a larger colour issue later in the season.
The front cover carried a welcome message in Swedish together with the full match details, printed above an action shot of Saints' Billy Stark, Doug Somner and Frank McDougall. More photos of the same players from recent games featured on page three in "Saints in Action". Jim Clunie's "Team Talk" welcomed the visitors and reflected on the events of the first leg match which led to his side bringing back a one-goal advantage. However, he reminded players and fans alike that this was only half time in the tie, and while he wanted his side to win, he emphasised that they would be taking no silly risks.
Page seven gave a detailed account of the first leg tie in the Swedish town of Boras and this was followed by two pages of biographies and photos of the visiting side's players. The centre pages listed the two player pools, either side of a pitch layout with places in which to write in the actual line ups. Below this was a feature about the wider Sports Club Elfsborg, who participated and excelled in a number of other sports besides football. The Icelandic match officials were listed in between photos of two of the goalscorers from the first leg; Lennart Nilsson and Billy Abercromby.
The Super Saint interview featuring Club Captain Jackie Copland and a run-down of the other European competition matches occupied page thirteen. An imaginative sponsorship deal from Paisley company McLean Homes was detailed on page fifteen where they would provide sponsorship fees to the Club based on their progression through each round of that season's UEFA Cup competition.
A double page photo gallery of I.F. Elfsborg's 75-year history featuring some images from as early as the 1930s was followed by a feature on the Swedish town of Boras and the visit of the Paisley fans there two weeks earlier. A photo of the visiting team occupied the back page whilst many of the even-numbered pages were taken up by adverts.
Although marking an important match of St. Mirren's history, this is not a difficult issue to obtain nowadays for a reasonable price.
On a blustery and rain-soaked evening, a crowd of 8,326 witnessed a tedious first half in which one of the few chances fell to Saints after 19 minutes. A Peter Weir cross glanced off the head of Doug Somner and fell to Frank McDougall but the striker's effort slipped past the post. Later in the first half, the Buddies were dealt a blow when Lex Richardson had to retire injured, to be replaced by Alan Logan.
At the start of the second half, the Swedish first division side almost took the lead when Larsson latched on to a poor Jackie Copland pass back but the chance came to nothing.
Elfsborg had to play the last eighteen minutes of the match with ten men when, having already committed both substitutes, goalkeeper Roger Svensson sustained a broken leg following a clash with Peter Weir. After a five-minute delay, he was stretchered off and was replaced between the sticks by full back Lennart Johansson.
The match then petered out to a goalless draw, but St. Mirren progressed through to the next round on a 2-1 aggregate.