Saints Gain Two Valuable Points at Pittodrie - 1979
(first published in the match programme for St. Mirren v Aberdeen, 26th September 2021)
St. Mirren arrived at Pittodrie for their third last game of the League season on 28th April 1979, boasting an undefeated season against Aberdeen. A 2-1 win at Love Street in the first encounter was followed by a 1-1 draw away in December and a 2-2 draw back in Paisley in February. The Dons were fresh from a 2-1 midweek home win over Rangers and were keen to keep their European qualification hopes alive.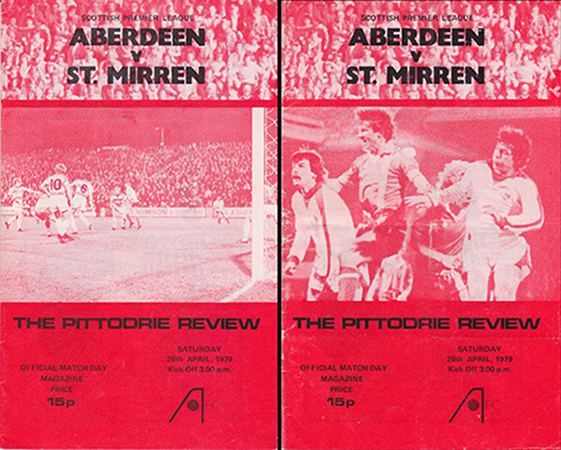 Aberdeen v St. Mirren 1979
The programme was Aberdeen's standard issue for the 1978/79 season, which consisted of sixteen pages, slightly larger than A5 and printed black on white gloss paper. The red and white cover featured an action photo, one of ten used throughout the season, which was overprinted with the match details. However, for the St. Mirren issue of 28th April, two different covers were available, while all other aspects of the programme content were identical. Interestingly, the same situation occurred for Saints' previous visit on 16th December 1978, involving another two different covers. Quite the curiosity for collectors!
Inside, "The Manager's View" gave Alex Ferguson's opinion of the home side's recent win over Rangers and warned about the importance of keeping the momentum going after such a victory. The meeting with St. Mirren, he said, would provide an equally difficult challenge as they were a fine side with some very good players.
A short Half-Time Quiz was followed by two pages of pen pictures and photos of the "Love Street Squad". The centre page spread of "Dons Statistics" gave results and team line-ups for the season and page eleven's "Star Pic" was of Gordon Strachan. "Teddy Scott's Pittodrie Review" presented news of recent events involving the reserve team, whilst page fourteen displayed a full-page photo from Saints' last visit to the Granite City in December. The back page provided the team line-ups for the day above the obligatory Half-Time Scoreboard. In the Aberdeen side that took the field, Ian Scanlon replaced the listed John McMaster, while for St. Mirren Billy Stark replaced Jimmy Bone.
The issue, which contained four pages of adverts, cost 15p and is quite easy to obtain nowadays although it's best to check with the seller as to which cover has been used.
A crowd of 11,343 saw the home side dominate the first half, but go into the break with only a 1-0 lead thanks to a 16th minute goal from Steve Archibald. For a side with European aspirations, the general consensus was that they were showing an alarming lack of urgency in their play.
Saints seized the initiative in the second half and scored two goals in the space of two minutes. Both were set up by Frank McGarvey and converted by Bobby Torrance in 67 minutes and Billy Stark in 69 minutes respectively. They then suffered a setback with thirteen minutes remaining when captain Tony Fitzpatrick was sent off for his second booking in the space of seven minutes, both of which were for fouls on Gordon Strachan, who himself was cautioned in the intervening time for dissent.
With four minutes remaining, Aberdeen were awarded a penalty when Saints' substitute Brian Docherty was adjudged to have handled in the box. Dons' substitute Joe Harper sent his spot kick wide of the target – his fourth penalty miss at home that season – and Saints prevailed 2-1 to remain unbeaten against Aberdeen and to maintain their own slim hopes of European football for one more match.