St. Mirren and Kilmarnock in a promotion duel 1993
(first published in the match programme for St. Mirren v Kilmarnock, 6th February 2021)
Heading into the last four matches of season 1992/93, St. Mirren were still in the hunt for the promotion place that would see them return to the Premier Division at the first attempt. By Saturday, April 24th 1993, they occupied fourth place in Division One on 46 points, three points behind Dunfermline and Kilmarnock, but out of reach of Raith Rovers, who had already secured top spot.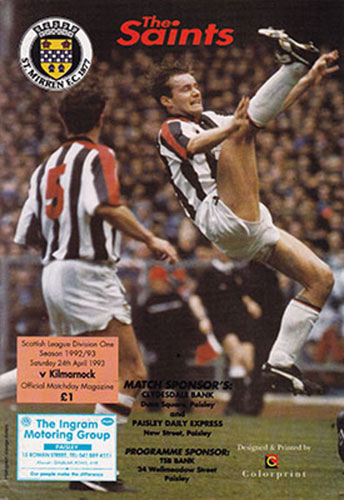 St. Mirren v Kilmarnock 1993
Saints had defeated promotion-rivals Dunfermline at East End Park on the previous Saturday and now hoped to dent Kilmarnock's hopes at Paisley to further improve their chances. A bumper crowd of 8,432 – the largest in Scotland on the day - was bolstered by a sizeable away support and by a number of neutrals, as many top-flight matches had been cancelled in preparation for Scotland's forthcoming World Cup qualifier against Portugal.
The first half of the match failed to rouse Paisley's biggest crowd of the season but, two minutes before half time and against the run of play, Killie's Mitchell converted a McSkimming cross to put the visitors in front. Saints' Manager Jimmy Bone reacted by bringing on substitutes Paul McIntyre and Eddie Gallagher at half time and the switch proved to be masterly in the 54th minute. Kilmarnock players disputed the move which led to a St. Mirren corner and Gallagher dived in to head home David Elliot's cross for the equaliser. Fourteen minutes later, the away team was further aggrieved when Paterson was penalised for a foul 25 yards from goal. John Hewitt, who had returned to the side after a six week lay-off, stepped up to curl a magnificent effort past Geddes to win the match 2-1 for Saints.
It was a tremendous result for St. Mirren, given that their home form prior to this match had been disappointing. However, with a team whose average age was only 22 and including five teenagers, a win against an experienced Kilmarnock side clearly augured well for the future. Unfortunately, a draw and defeat in the remaining matches meant that promotion slipped away from Saints, whilst the Ayrshire club gained Premier Division status in a tense final day finish.
The match programme was St. Mirren's standard issue for the season, consisting of 32 glossy pages measuring 9.5 by 6.75 inches, and priced at £1. The front cover displayed the same action photo throughout the season and was overprinted with the full match details. Inside, red, yellow and purple spot colour was used throughout and it was certainly a more colourful programme than the productions of previous seasons.
The mandatory list of Club Officials and short message from Manager Jimmy Bone on page three was followed by a feature on the redevelopment of Love Street's West End, including the construction of a 3,000 capacity all-seated stand. Two pages of black and white action photos from the recent game against Meadowbank Thistle bookended interviews with Ricky Gillies and Dougie Somner and plaudits for visitors Kilmarnock on recently winning the Programme of the Year award for the First Division.
The centre pages presented the team line-ups, which were surrounded by adverts. For the Kilmarnock issue, a four-page advertising leaflet was also included for St. Mirren's official sponsors, Ingram.
The second half of the programme included media comments on the recent matches against Meadowbank and Dunfermline, an extensive First Division Round-Up of recent events, two pages on the visitors and a look back to matches from five and ten years previously. There was good statistical coverage of the First Team and, most refreshing of all, full Reserve team information, which had previously been overlooked by many programmes until then. The remainder of the issue consisted of sponsorship items and adverts.
Despite the large crowd and being a sell-out on the day, this programme can still be found on dealer's lists at reasonable prices.