Two Thrilling Scottish League Cup Semi Final Clashes - 1955
(first published in the match programme for St. Mirren v Motherwell, 17th October 2020)
St. Mirren and Motherwell met on 1st October 1955 in the Scottish League Cup Semi Final at Ibrox before a slightly disappointing crowd of 19,500. With rain threatening, the game set off at a face pace with Saints' debutant centre-forward Jackie Brown from Queen of the South forcing 'Well's 'keeper Weir to clear and at the other end, Aitkenhead and McSeveney squandered good chances.
St. Mirren opened the scoring after 20 minutes when Brian Callan tricked two opponents and set up inside-forward Tommy Gemmell to beat Weir with a straight, high shot from 20 yards.
Motherwell's equaliser came five minutes later in controversial circumstances. McSeveney had been adjudged offside and the ball rolled towards Saints' Willie Telfer. The centre-half gently touched it back for 'keeper Jim Lornie to place for the free kick. McSeveney immediately intercepted and sent the ball into the empty net. Despite protests from the St. Mirren players, the goal was allowed, the referee and linesman believing that Telfer had taken the offside kick.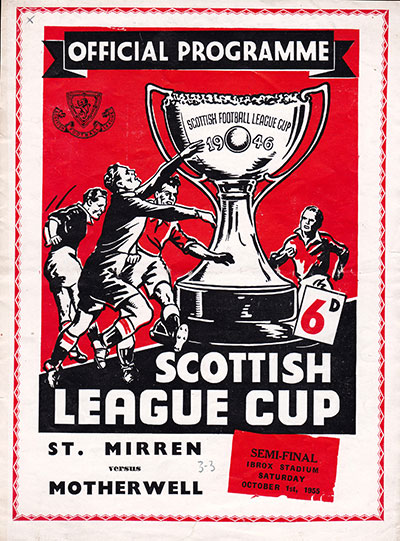 St. Mirren v Motherwell 1955
The Steelman took the initiative from that point and Sloan gave them a half time lead when he cut inside to shoot past Lornie in the 31st minute.
Perhaps in an attempt to outwit their opponents, Saints emerged for the second half wearing unnumbered shirts, with the exception of Telfer. If this was the intention then it seemed to work, as both Holmes and Callan created good early chances. However, Motherwell survived and indeed could have put the tie beyond reach with ten minutes to go when Aitkenhead, in a good scoring position himself, squared the ball for Aitken to blast it over the bar. They were made to rue this miss five minutes later when a St. Mirren free kick led to Gemmell levelling the score at 2-2. Gemmell scored his own, and Saints', third in the first minute of extra time, but McSeveney forced a replay when he netted with eight minutes remaining.
An eight-page programme was produced, printed red and black on white paper and costing sixpence. The cover design and internal format were unchanged from previous League Cup Final and Semi Final programmes but that season's introduction of a larger page size and full gloss paper (probably prompting the doubling in price) set the standard of these issues for the remainder of the decade.
Inside, pages two and three introduced pen pictures and thumbnail sketches of both teams alongside a photo of St. Mirren director William Waters, who was also League President at the time. The centre spread presented the team line-ups in the typical 2-3-5 formation of the day, flanked by photos of Saints' Willie Telfer and 'Well secretary John Hunter. Positional differences aside, the teams listed in the programme were those who actually took the field, with the sole exception of Saints' Willie Johnstone replacing Davie Laird. Page six detailed St. Mirren's cup exploits to date, and provided a Half-Time Score Board of the day's matches. Page seven was devoted to a history of the League Cup which, at that time, was still very much in its infancy. The back page reminisced on Motherwell's League and League Cup triumphs in 1931/32 and 1950/51, as well as more recent League Cup encounters.
This programme still appears for sale from time to time, but expect to pay a few tens of pounds for a good quality copy.
The replay took place a week later at Celtic Park in blustery conditions before a crowd of 22,000. The Motherwell team was unchanged, while Davie Laird replaced Willie Johnstone for St. Mirren. Laird took full advantage of his inclusion when, after a bit of a goalmouth stramash, he trundled the ball into the net for Saints' first goal after 17 minutes. Indeed, he deserved another goal after thirty minutes, but his shot struck the bar. Throughout the half, Motherwell were almost wholly on the defensive and play became a little rough as they were harassed by the eager St. Mirren forwards.
In these pre-substitution days, Motherwell were forced into a positional change at the start of the second half when Humphries, nursing an injured arm, was forced to play out on the right wing. As in the first match, Saints changed their shirts after the interval and only Telfer carried a number. The pattern of play was unchanged from the first half, with Jim Rodger in particular impressng for St. Mirren. Indeed it was his pass that allowed Jackie Brown to score his first goal for St. Mirren with a ground shot that had Weir well beaten after 61 minutes. By this time, the Steelmen were well beaten and Saints progressed to secure a final spot against Aberdeen later in the month.
As with all other big match replays of the 1950s, no programme was issued for this match.