Testimonial Programmes
(first published in the match programme for St. Mirren v Livingston, 1st August 2020)
In recent times, many Clubs have established a Hall of Fame as a means of honouring their greatest players and officials. It is a means of recognising stars from various eras, recalling great games and incidents in which they were involved and introducing them to a new generation of fans, but it was not always the case.
From early days, testimonials were a means of rewarding players for their long service and loyalty to the Club and for them to earn a bit of a financial uplift at the end of their careers. In many cases, but not all, they had the opportunity of a match, playing with and against respected players or teams and thus providing the fans with a unique entertainment. It is somewhat surprising that, since 1945, only a handful of such matches have been played at Paisley.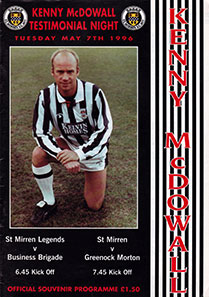 St. Mirren v Morton 1996
(Kenny McDowall)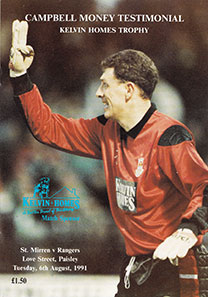 St. Mirren v Rangers 1991
(Campbell Money)
The first of these was on Monday 16th September 1950, when retired trainer Andy Reid was rewarded with a match against Sunderland. A crowd of 7,000 saw an entertaining 3-3 draw but, unfortunately, the occasion did not see a programme issued.
It was not until 1991 that the next match took place, this time to honour goalkeeper Campbell Money, by then celebrating his thirteenth year at the Club and seventh as principal custodian. His Testimonial, against a full-strength Rangers on 6th August 1991, was played for the Kelvin Homes Trophy. The Ibrox Club took the honours with a late penalty in a five-goal thriller in front of 7,204 fans. A 32-page A5-sized programme was produced, containing a number of features by journalists and players, some recent action shots of Money playing against the Old Firm, and pen pictures of both squads. The issue, with a £1.50 cover price, is not difficult to obtain nowadays.
Next up was Kenny McDowall, whose match against Morton on 7th May 1996, was preceded by a St. Mirren Legends v Business Brigade kick-around. The result of the kick-around is unknown, but a goal by Lavety and two from Yardley settled the main event in favour of the home side by a score of 3-0. Another 32-page programme was produced on large gloss pages and contained more colour and much more reading and photographic content than the Money issue. It is still available, but usually at much more than the original £1.30 cover price.
At the beginning of the ultimately victorious League-winning season of 1999/2000, Norrie McWhirter's Testimonial was played against Kilmarnock on 24th July. Tom Brown's 27th minute penalty for the home side was the only goal of the match, played before a crowd of 2,636. The programme format was a preview of the League issues for that season, and contained the usual plaudits from peers, fans and journalists, but was half and half content and adverts for the £1.50 cover price. Again, it can still be obtained, but at a higher than cover price.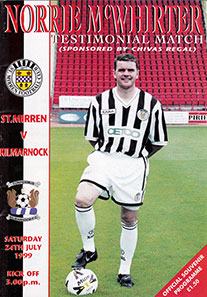 St. Mirren v Kilmarnock 1999
(Norrie McWhirter)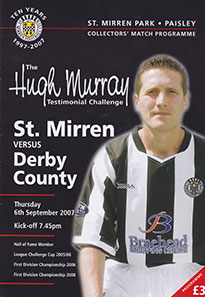 St. Mirren v Derby 2007
(Hugh Murray)
By far the largest and most lavish "Collector's Match Programme" was reserved for Hugh Murray's Testimonial Challenge against Derby County on 6th September 2007. Twenty-four, full colour A4-sized pages contained a wide range of articles, facts and anecdotes from managers, team-mates and fans alike to celebrate Hugh's then 10 years at the Club. It is not such an easy issue to find nowadays and will probably fetch more than the £3 cover price. St. Mirren won the match 1-0 thanks to a Billy Mehmet goal in front of a disappointing attendance of 1,272.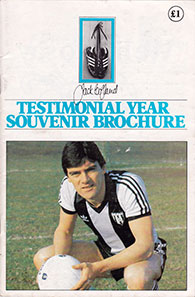 Jackie Copland
Testimonial 1983
Two other benefit matches took place at Love Street, with lesser recognition. On 30th March 2005, Ricky Gillies' Testimonial saw Saints win 1-0 against a Celtic XI and was marked only by a colour teamsheet. A St. Mirren Legends team also took on a Celtic Legends side in a benefit game for Frank McAvennie on October 13th 2002. This match was not officially endorsed by either of the two clubs, but permission was granted for Love Street to be the venue. The Saints Legends won by 9 goals to 5. The only memorabilia known to exist is the match ticket.
The final item of note is not for a match, but marks the Testimonial Year of Jackie Copland. A 64-page, larger than A5-sized brochure contained a wealth of articles about the former defender and captain. These were interspersed with numerous photos, but unfortunately there were no facts and figures to fully document the stalwart's career, which ended with retirement in 1983. With a cover price of only £1, this is quite a difficult brochure to obtain nowadays. It was unfortunate that a proposed Testimonial match with Manchester City fell through in the summer of 1983.