St. Mirren Reserve and Youth Team Issues
(first published in the match programme for St. Mirren v Hamilton, 2nd February 2020)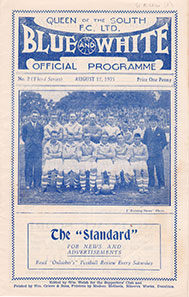 QOS Res. v St. Mirren Res. 1935
Reserve match programmes are generally much harder to obtain than those produced for First Team fixtures, given their lower profile and smaller attendances at these matches.
During the 1930s, a handful of Scottish clubs began to commission the production of programmes for both First Team and Reserve fixtures. The earliest known issue involving St. Mirren Reserves was on September 30th 1933 in a League match away to Queen of the South. Queens were prolific issuers of programmes from 1933 until the start of the Second World War in 1939 and produced a 12-page issue called "Blue and White" costing one old penny.
An example of this programme is for the corresponding fixture on August 17th 1935. The front cover gave the match details and featured a photo of the Queen's team group. Inside, the Editor's Notebook on page three, snippets of Club news dispersed throughout the remaining pages, a half-time scoreboard and team line ups were the only reading matter available, the remainder being adverts. A welcome to the Saints Reserves was confined to one paragraph on the back page. For the record, both teams gained their first points of the season in a 5-5 draw.
From the end of hostilities in 1945 until the early 1960's, only Aberdeen, Hearts, Hibs and Kilmarnock were regular issuers of Reserve programmes and these were normally slimmed-down versions of their First Team publications. Otherwise, only random programmes are known to exist from other Clubs, with little apparent reasoning behind the choice of match for which a programme was deemed worthy of issue.
It was not until the 1980s that Reserve issues reappeared. Programmes were issued for St. Mirren's annual reserve friendly match at Largs Thistle, and the advent of the BP Youth Cup saw a tournament programme issued, along with sporadic issues for early rounds and regular issues for the Semi-Finals and Final. Programme production gathered momentum in the 1990s with Albion Rovers, Clydebank, Falkirk and Kilmarnock amongst the Clubs who began to issue on a regular basis. There were also notable publications for annual pre-season tournaments such as the Keyline Challenge Cup, in which the Saints youth team participated on no fewer than six occasions. In the 2000s, Rangers began to produce free issues for their matches at Murray Park, although many consider these home-grown efforts to be unofficial.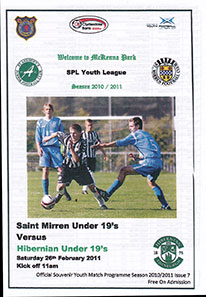 St. Mirren Res. v Hibs Res. 2011
The first St. Mirren home reserve programmes appeared in 2008, when issues were produced for the Youth Cup ties against Montrose and Inverness Caley Thistle. During seasons 2009/10 and 2010/11, the young Buddies' played their home matches at McKenna Park, home of junior club St. Anthony's, and more frequent issues began to appear. These four-page A5 programmes consisted of an action photo and match details on the front page, results, fixtures and match reports on the inside, and team line ups on the back page. At least 12 of these issues are known to exist, many of which have proved to be highly elusive. The St. Mirren Programme Archive would be very interested in any further information, scans or copies of these issues.
This burst of activity acted as a catalyst for the return of old favourites Aberdeen, Hearts and Hibs to the reserve programme scene in the subsequent years and they, along with Hamilton Academical and Kilmarnock, are regular issuers for the current season.
In the absence of a programme, it is perfectly acceptable to consider an official teamsheet in its place, Examples of teamsheets exist as far back as the 1980's although, even today, their authenticity is always in question, as they can be easily photocopied.
The quality of issues for Reserve and Youth matches, certainly in recent years, has been variable at best and some have been classed as "unofficial". The majority of issues are produced, not by the Clubs themselves, but by supporters' groups and dedicated individuals. My personal view is that the Clubs are giving tacit approval if they produce nothing themselves and allow these issues to be distributed at their matches and therefore the issues should be deemed valid. It is, of course, up to the individual collector to decide.