Saints' non-league opposition in the Scottish Cup
(first published in the match programme for St. Mirren v Broxburn Athletic, 18th January 2020)
From 1945 until the start of this season, St. Mirren have been paired with non-league opposition in the Scottish Cup on seven occasions. Each of these ties has its own unique tale to tell.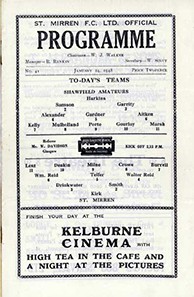 St. Mirren v Shawfield Am. 1948
St. Mirren 8 Shawfield Amateurs 0, 1st Round, 24th January 1948
A 9,000 crowd saw the side from Rutherglen make their debut in the national cup tournament and an eight-page programme was produced for the tie. Like other issues of the season, it was sparse in content. The front page displayed the team line ups and formations, whilst two half pages were devoted to "Items of Interest". The centre pages carried the half time scoreboard and the remainder of the issue consisted of adverts. To this day, this programme remains one of the most elusive of St. Mirren issues and has seldom appeared for sale.
St. Mirren 10 Peebles Rovers 0, 2nd Round, 13th February 1959
This match was rescheduled for a Friday evening in order to avoid clashes with two other ties at Ibrox and Renfrew on the Saturday. The switch was only made possible because St. Mirren Park had been enhanced by the installation of a new floodlighting system and the cup tie would be its first proper test. There were reports of some dark patches on the pitch, but the team didn't seem to notice and took their first step on a journey towards a famous Cup victory that season. Sadly, no programme was issued for what was, in many ways, a significant match.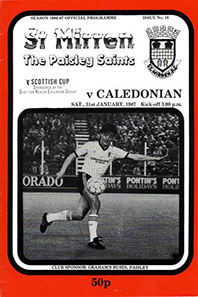 St. Mirren v Caledonian 1987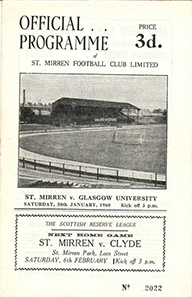 St. Mirren v Glasgow U. 1960
St. Mirren 15 Glasgow University 0, 1st Round, 30th January 1960
Saints began their defence of the trophy at a snow bound Paisley against the cup debutants in a tie which is so famous that it needs little introduction. The 12-page programme was typical of Saints issues of the late 1950s and early 1960s. The front page gave match details beneath a photo of the ground, whilst "Club News" and "From the Manager's Desk" occupied a further three pages. The centre pages gave the team line ups, and a page of fixtures and supporter's club news was followed by the half time scoreboard. Despite the passage of time, this programme can still be obtained at a reasonable price.
St. Mirren 3 Caledonian 0, 3rd Round, 31st January 1987
Inverness Caley, as they were better known, were Saints first opponents on the way to another victorious Cup run. The 20-page programme, priced 50p, contained a good mix of first team and reserve team news, notes on the opposition, historical articles and a quiz, whilst photographic content concentrated on Saint's recent involvement in the Tennents Sixes tournament. Again, this programme is not too difficult to obtain.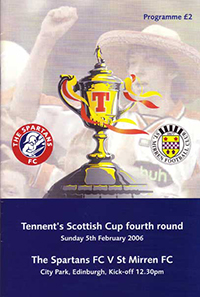 Spartans v St. Mirren 2006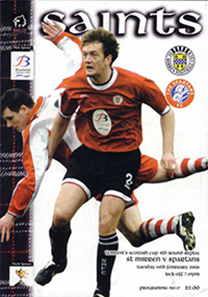 St. Mirren v Spartans 2006
Spartans 0 St. Mirren 0, 4th Round, 5th February 2006
St. Mirren visited City Park in Edinburgh for a Sunday lunchtime kick off and had to settle for a replay. The home side produced a 44-page full colour A5 programme for the occasion, containing news, fixtures and statistics for all levels of the Spartans teams plus good coverage of the visitors and historical articles on Spartans 1972 East of Scotland League winners.
St. Mirren 3 Spartans 0, 4th Round replay, 14th February 2006
The replay saw the issue of a 32-page programme, typical in format to other Saints issues from that Championship winning season. Manager's notes and "Black and White News" were followed by information on Spartans, reports and photos from recent games, historical articles on previous cup ties and statistical information.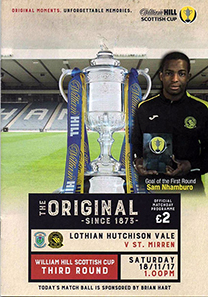 LTHV v St. Mirren 2017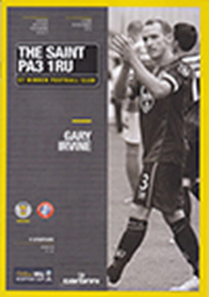 St. Mirren v Spartans 2016
St. Mirren 5 Spartans 1, 3rd Round, 29th November 2016
This tie was originally scheduled for Saturday 26th November, but was postponed due to undersoil heating problems at New St. Mirren Park. The 16-page programme for the original date was reissued, without update, for the rescheduled tie. The Gaffer's notes were followed by a piece on Frank McGarvey, a double page on Spartans, an interview with striker John Sutton, and a topical debate on international football.
Lothian Thistle Hutchison Vale 1 St. Mirren 7, 3rd Round, 18th November 2017
Despite the East of Scotland League team having a 100% record in the season to date, Saints ran out easy winners, with all of their goals coming in the first half. The 24-page programme contained potted histories of both teams and match reports on the home team's Cup progress so far. The cover was derived from a standard template provided by the sponsors and was used for a number of clubs' cup tie programmes that season.