Saints' 125th Anniversary Issue
(first published in the match programme for St. Mirren v Ross County, 23rd November 2019)
St. Mirren's 125th Anniversary coincided with the visit of Ross County to Love Street for a First Division match on 5th October 2002. On a suitably sunny Saturday, nine of the victorious Scottish Cup team of 1959 were invited guests and were presented to the crowd of 3,737. Saints' famous striped shirts also bore a specially embroidered commemorative inscription for the occasion. The match between one of the Scottish League's original members and one of its newest ended in a 1-1 draw, when Junior Mendes' 39th minute lob over the keeper was equalised three minutes later by Brian Irvine.
The 40-page full colour match programme was along similar lines to the issues for the 2002/03 season, but was headed "125th Anniversary Issue" and there was a one-off price increase from £2 to £3. Saints legend Mark Yardley was featured on the cover and, for the extra cost, a small-scale reproduction of Saints' Centenary programme against Liverpool in 1977 was enclosed.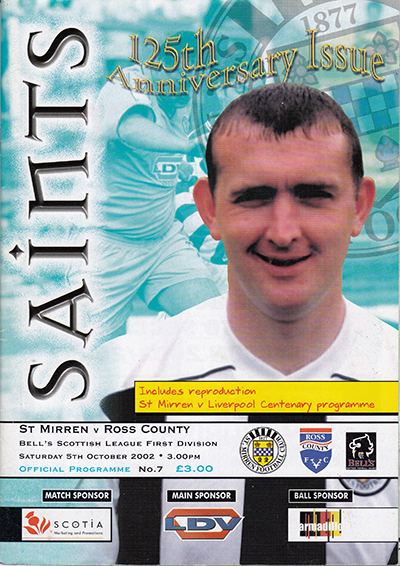 125th Anniversary issue
On the inside, the contents and welcome from the Chairman and Manager were followed by two pages on the visitors and details of previous encounters, of which there had only been six since the Dingwall team's entry to the league in 1994/95. Campbell Kennedy's Commercial Kingdom and Bulletin Board were followed by Brian Wright's look at Saints in the 1930s in "Blowing Hot & Cold", David Grier's own memories of St. Mirren in "View from the North Stand", an interview with defender Ricky Robb and Jim Crawford's profile of Past Master Willie Telfer. Paul Rudden was the subject of the centre page spread.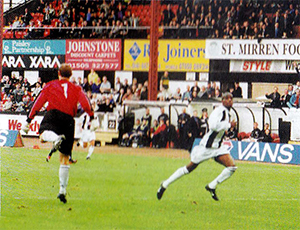 Junior Mendes opens the scoring
Into the second half of the programme and there was a further page on the visitors, including a message from the Ross County manager, the late Neale Cooper. There were then pages on the youths and community chat, kit sponsorship and a trivia page for old and young alike. Two pages were devoted to memorable milestones from the Club's previous 125 years and also from matches played on 5th October. "Prominent In The Past" detailed Saints' Paisley Charity Cup victory against Manchester City in 1959. "Total Recall" featured photo action from the previous home match against Queen of the South and Season 2002/03 Stats and Squad Checks brought the issue to a close. Adverts filled the remaining pages.
This issue introduced an innovation where the holders of three lucky winning programmes could receive one of the specially embroidered 125th Anniversary shirts worn by the players on the day. It proved to be so popular with the fans who made the day such a success that the feature was retained, with various prizes available, for the remainder of the season. This might be one of the reasons why this particular issue is now quite hard to obtain and is much sought after by collectors of both Clubs.