A Rare Saints programme and a visit from the Best
(first published in the match programme for St. Mirren v Hibs, 26th November 2019)
One of the rarest St. Mirren programmes in existence is the issue for the postponed match against Hibernian, scheduled for 20th December 1969. Love Street failed a morning inspection after overnight rain had turned to ice, and Saintsí manager Alex Wright, agreeing with the decision, compared the playing surface to a skating rink. Programmes had already been produced, but it is highly unlikely that these were reissued when the rearranged game eventually took place on Tuesday 3rd March 1970, when Saintsí battled to a 3-3 draw with their Edinburgh rivals. No issue exists bearing the date of the rearranged match, and the fate of the original programmes remains unclear.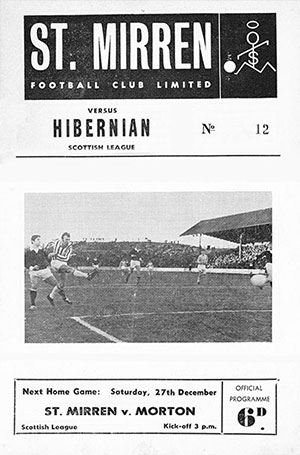 St. Mirren v Hibs 1969 (postponed)
The 12-page programme, priced 6d was largely unchanged in format to St. Mirren issues between 1965 and 1970. The front cover featured a photograph of Hugh Gilshan scoring against Hearts in the previous seasonís 1-1 draw. Alex Wrightís Managerís View occupied page 3, whilst the next two pages contained player statistics, fixtures and the First Division league table. The centre pages featured the team line-ups, surrounded by adverts, and pages 8 and 9 featured a Saints Pen Picture and a Half Time Score Board. All other pages contained adverts.
Almost ten years later, on 24th November 1979, Hibernian arrived at a rain-drenched Paisley with a new £1500 per game signing Ė the one and only George Best. The 32 year old Northern Irishmanís debut boosted the attendance to 13,798 and, although his pace was sadly lacking, his skills were still there for all to see and he clearly boosted the confidence of a Hibs side trying to stave off relegation fears. However, it was Saints who prevailed through two Doug Somner goals on 42 and 88 minutes, with Best getting a last minute consolation in a 2-1 win.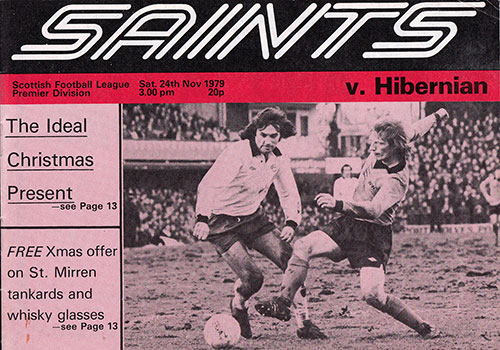 St. Mirren v Hibs 1979/80
The programme for this match was typical of the programmes for the 1979/80 season. It was Saintsí first flirtation with a landscape format, one which they would revisit in the late 1980s. A 16-page programme contained the obligatory Managerís feature from Jim Clunie, two pages on the opponents and another one specifically for the famous debutant. The centre pages displayed the respective team pools and officials. The second half of the programme contained a feature on Super Saint Jack Copland and a page of Reserves news, including reports of two recent League and League Cup victories over Rangers. There were further pages covering a Commercial Report, Love Street News, fixtures and the league table. The back page provided the Half Time scoreboard and an action photo from a recent game against Rangers. The remainder of the programme, priced 20p, was filled with adverts.